Design Process
Designed for Your Lifestyle
We base our residential design philosophy on the belief that homeowners are of utmost importance, and each remodeling or building project presents unique opportunities. Having worked in the residential design business for 30 years, we have experience with a variety of architectural styles. We listen and work closely with you to ascertain your goals and help create a home that reflects your style.
Working with a Residential Designer
A professional residential designer saves you money and time by helping you think through the process and providing detailed, professionally prepared plans. Working through the overwhelming number of options in advance helps to minimize what can be costly changes during the actual construction.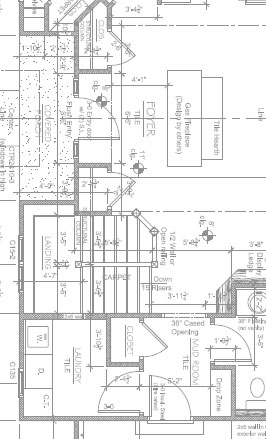 Some homeowners find a floor plan on the internet, then want to make changes to make it reflect their needs. This can work, but you need an experienced designer to make the changes in a way that effectively manages both the floor plan and the home's exterior. Even more critical are structural considerations that less experienced drafters may not address. A poorly prepared plan can make the contractor's job more difficult and time consuming, which will increase construction costs.
Beginning with Your Goals
You may have been dreaming of this project for years! Clients come to us with everything from a few vague ideas to a binder of concepts organized room-by-room. You might have magazine or website pictures, photos of other homes that you admire, floor plan ideas, or descriptions of homes you've seen.
To decide on your goals, you can begin by looking at your existing home and noting what works for you and what doesn't. Do you need more room by the back door, more functional kitchen space, or another bedroom or bathroom? We can help with an initial feasibility study to look at concepts most worth pursuing. This can be especially helpful in evaluating changes to your current home, to compare the benefits of remodeling versus moving.
You may find it helpful to organize your ideas into a Needs List and a Wish List . There is always give and take, with your list of desired changes balanced against practicality, structural feasibility and cost. A professional residential designer can take all these elements into consideration to develop the best solution for you.
Timeframe
Sometimes we are able to start right away; other times it may be several weeks before we have an opening in the schedule. If we are unable to take new residential design projects, we will let you know and offer references to other reputable designers.
Once you've given us the go-ahead, we will schedule a meeting to discuss your project in depth. Following this meeting we begin work on a schematic design. Typically the most time-consuming part of the process, this may take three to four weeks to complete.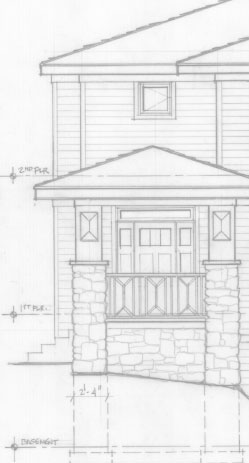 A review of the schematic design allows you to finalize decisions so that we can determine the direction of the project. We develop preliminary construction plans in the following one to three weeks. Depending on the nature of your project, you can expect final residential construction plans in about eight to twelve weeks.
Sometimes life can get in the way (i.e. vacations, graduations, family emergencies), so while this is a typical timeline, your project may take less or more time. We don't believe it's in your best interest to rush through the process, rather we review each phase thoughtfully. This will give you the most satisfaction in the long run and help ensure your project's success.
Design Proposal
The fee will vary depending on the scope of your residential project. After an initial complimentary consultation, you will receive a design proposal specific to your needs. We base design fees on an hourly rate dependent on the scope of the project. Your design proposal spells out each phase of design and the payment schedule. Once you agree to the proposal and provide an initial deposit we can begin your project and help you create your new living space.